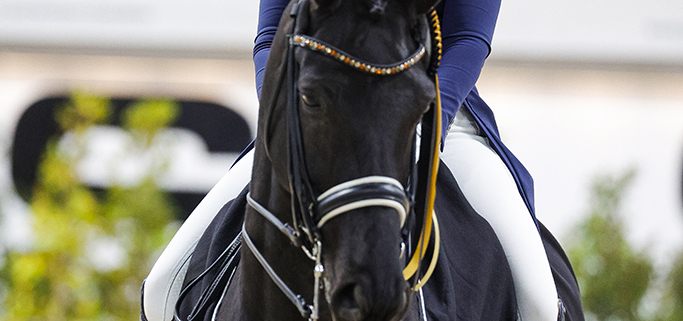 Daily Report Friday March 4th CDI Lier
Danielle Heijkoop and Jupiter win the CDI3* Small Tour Prix St-George.
The victory in the Prix St-George at the CDI Lier today was won by Danielle Heijkoop, with Jupiler she rode to a winning score of 73.029%.
Danielle: "This is only our second international show, I know he can do it and has the quality. We rode quite early in the program so you have to wait and see what the other combinations show. Later today I will compete with Damirez in the Grand Prix which is our international debut. The CDI Lier has started well for us here".
Danish rider Karoline Rohmann and Aagaardens Lianne rode to second place today with a score of 72.059%. Marieke van der Putten and Amphityron RS2 came third today with a score of 71.441%, followed by Elisabeth geluk and Hamilton this combination rode to 71.265% which was good for fourth place.
The best Belgian combination we find back on place six, the rider Naomi Nouwen and Frevo rode to 70.382%.
Fabienne Müller-Lütkemeier and De Lavega win the CDI3* Medium Tour Intermediate A
The Intermediate A was just won by German Amazon Fabienne Müller-Lüktemeier with De Lavega the winning score today came to 70.529%.
Belgian combination Laurens Vanderbeeken and Gamin van het Waterhof rode to second place with a fine score of 69.647%.
Andrea Timpe and Don Carismo 2 rode to third place in the Intermediate A with a score of 69.000%.
Fabienne Müller Lütkemeier also wins CDI3* Big Tour Grand Prix in Lier
After winning the Intermediate A earlier in the day, tonight there was victory in the CDI3* Grand Prix for German rider Fabienne Müller Lütkemeier. With the mare Valencia AS her score tonight was 75.804%.
Lyndal Oatley from Australia came second with Eros and scored 73.370%.
Lynne Maas (NL) and Eastpoint rode very strong to third place in the CDI3* Grand Prix 71.780% was the score of her test.
The best Belgian combination tonight was Larissa Pauluis, with First – Step Valentin she came to a score of 70.044% and that was good for sixth place today.
In total there were 28 combinations at the start tonight, the full results can be seen via the link below
https://www.belgiumdressageevents.be/wp-content/uploads/2022/03/Danielle-Heijkoop-Jupiter-LIER22L79513.jpg.jpg
1024
683
Belgium Dressage Events
https://www.belgiumdressageevents.be/wp-content/uploads/2020/02/Logo-CDI-Lier-Menu-1.png
Belgium Dressage Events
2022-03-05 12:54:13
2022-03-08 11:29:09
Daily Report Friday March 4th CDI Lier