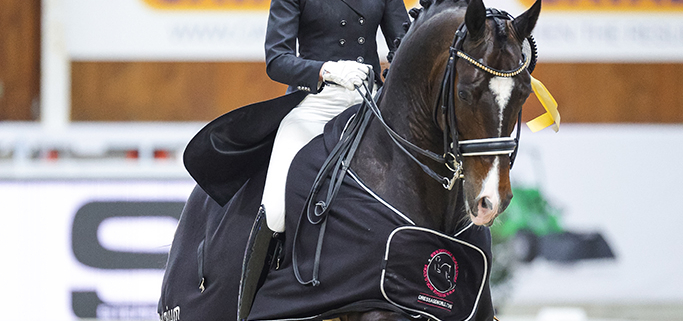 Daily Report Sunday March 6th CDI Lier
Karoline Rohman also wins the Small Tour Freestyle
The final Freestyle to Music in the Small Tour was won by Danish rider Karoline Rohman and Aagaardens Lianne, the winning score was 76.765%.
With a small difference to the number one with a score of 76.005% there was a second place for Geert jan Raateland and Iwan.
Third place also went to the Netherlands, Danielle Heijkoop and Jupiter rode the Freestyle to 74.680%.
The best Belgian combination was Isabel Cool and Herr Charmeur Coolhorses, who rode to a fine score of 74.205%.
Charlotte Fry and Glamourdale win the CDI4* Grand Prix Special ||
A strong field of competitors came to the start during the Grand Prix Special in Lier this afternoon.
The Grand Prix Special was won by Charlotte Fry and Glamourdale with a score of 78.681%.
Juliette Ramel and Buriel K.H., winner of the CDI4* Grand Prix, rode today's Special to 76.468%, which was good for second place.
Juliette: "I am very pleased with how it went here, we have had quite a long winter break so it's always a matter of waiting to see how a first major competition will turn out. The event was very good, nice to ride but also the organization has done well. I certainly hope to come back here next year."
Dorothee Schneider and First Romance 2 are back in third place, today's score came to 74.362%.
Belgian rider Alexa Fairchild and Dabanos D'04 rode in the Grand Prix Special to a score of 69.340%.
Marieke Van der Putten wins closing CDI4* Grand Prix Freestyle.
The final class of the CDI Lier 2022 was won by Marieke van der Putten this afternoon, the Dutch rider rode Torveslettens Titanium to 75.630% in the CDI4* Grand Prix Freestyle.
Richart Davison, representing England, rode Bubbelingh in the Freestyle to a score of 75.285% which put him in second place.
The best Belgian combination in the Freestyle was in third place, scoring 74.840% with Flambeau.
Andres Timpe (GER), who competed in several classes during the CDI, came fourth today with Don Darwin. Fifth was Kazuki Sado (JPN) with Barolo who scored 73.380%. Sixth was Britta Rasche-Merkt with Xerez who scored 73.305% in the Freestyle. The top six riders were ready for the last prize giving ceremony of the CDI Lier.
https://www.belgiumdressageevents.be/wp-content/uploads/2022/03/Marieke-van-der-Putten-Torveslettens-Titanium-LIER22L87708.jpg.jpg
1024
683
Belgium Dressage Events
https://www.belgiumdressageevents.be/wp-content/uploads/2020/02/Logo-CDI-Lier-Menu-1.png
Belgium Dressage Events
2022-03-08 11:34:46
2022-03-08 11:34:46
Daily Report Sunday March 6th CDI Lier