Liezel Everars unbeatable in Pony Class: "I want to get the best out of my pony"
She did it again, the Belgium pony rider Liezel Everars was the very best in the Pony Class of CDI Lier, just like yesterday. "I want to get the best out of my pony because it's my final competition year with him", she told us right after her performance.
With a score of over 75% Liezel and FS Capelli de Niro performed really well at their first international competition of the year. "CDI Lier is such a beautiful competition to ride at, and up front you never know how things will turn out. But at least we always do our very best."
Four European Championships
The combination isn't unexperienced at all. They took part at four European Championships already and they are hoping to add another one this summer. "It's our first international competition of the year, and there are still things to improve but I'm very happy with my pony. He loves all the attention and is a food addict as well", laughs Liezel. FS Capelli de Niro is her partner in crime for already four years. "My most special memories are the Europeans, and hopefully we can close our pony time with another European Championship. For tomorrow I will try to do the same as the last two days", decides Liezel.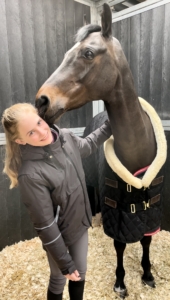 12-year-old made international debut
Unlike the experienced Liezel, 12-years-old Alexine made her international debut at the Pony Class. This Belgium rider did really well with her amazing pony Terbofens Charico. "This is my first international competition. I found it very exciting and we gained a lot of experience." Today they became 17th with a score of over 66%, yesterday they ended 14th also with a score over 66%.
Flying start
Alexine and Charico are together for just 3 months. In January they rode their first national competition and now they were all set to make their international debut. "Luckily Charico has a lot of experience and quality. We trained a lot and I had to learn to memorize all the tests." Spoken about a flying start.
Little girls, big dreams
Little girls, big dreams. Alexine's her idol? The Olympic Champion Charlotte Dujardin, of course. "I would love to ride once at the Olympics", says Alexine with a twinkle in her eyes. But for now she is over the moon with her pony. "I'm really happy with him and hope to gain a lot of experience at competitions. And he's for sure very sweet and loves to cuddle, that's what I also really like about him."
Dutch 2nd and 3rd
Just like yesterday, the second and third place were for Dutch riders. Maddy Dijkshoorn ended as second with her pony Boogie de L'Aube and scored 72.793%. The Dutch Sissi Gijssen ended as third with her pony New Star 8 and gained a score of 72.207%.
https://www.belgiumdressageevents.be/wp-content/uploads/2023/03/98952-kopieren.jpg
1365
2048
Belgium Dressage Events
https://www.belgiumdressageevents.be/wp-content/uploads/2020/02/Logo-CDI-Lier-Menu-1.png
Belgium Dressage Events
2023-03-01 14:11:42
2023-03-01 14:11:42
Liezel Everars unbeatable in Pony Class: "I want to get the best out of my pony"