Second victory for Domien Michiels in Briljant Cup
And that's another victory for Domien Michiels in the Prix St. George Briljant Cup! With a win yesterday ánd today Domien and his handsome grey gelding Panthero van de Vogelzang, have a promising position for the freestyle final on Saturday.
"I had a really great ride today. This was the very first time in the arena that I felt like I had Panthero perfectly where I want him to be. I got goosebumps at times and I laughed and enjoyed myself during my test. At the end of the test one big mistake crept in, but that was the only negative thing. I've been riding Panthero since he was broken under the saddle so I schooled him myself, which is a lot of fun. I hope it will be a horse for the Grand Prix, he shows a lot of talent for it."
Freestyle Final
How Domien looks forward to the Freestyle final on Saturday? "We managed to achieve a good position for the final, but every test has to be ridden and a distraction error is easily made, especially with a stallion. We are going to give it our best try!"
The second price in the Briljant Cup was for Eline Borrey De Coninck. With her Dollars she was in the lead for quite some time, but with 69.206% she had to settle for the second spot. Saidja Brison & Kenzo received exactly the same score as Eline and they became third.
Diamant Cup
The Diamant Cup was very popular amongst the riders, judged by the impressive starting list of 35 competitor on the second day of the rankings. With a convincing test, Yasmine Es-Salehy and her chestnut mare VRDS Nea's Donna Qizara where the winners with a nice score of 71.303%. Saidja Brison followed closely with her Ladykiller. With 71.242% this combination won the second price. The top three of the Diamant Cup was completed by Aure Spleeters and Sunny de la Ferme Rose, who received 69.485% of the judging panel. Saturday, the best competitors of the Diamant Cup will compete in the finals with a Freestyle to Music.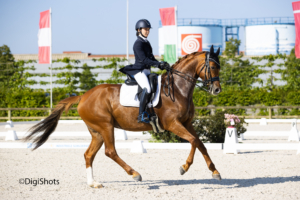 You are invited
We still have a few very nice days full of beautiful dressage sport ahead of us and the weather forecast also looks good. As a spectator you are very welcome in Lier. From up to and including Sunday 29 May, the entrance fee is 10 euros per person. Via the website and the social media channels of Belgium Dressage Events, you find the timetable, starting lists, results, list of participants, the livestream and off course the latest news.
For the riders
Our photographer Leanjo de Koster of Digishots is here to capture all the thrills and spills. You can check out and order the pictures via www.digishots.nl.
Startlists/results
Pictures
Livestream
Photo: Digishots
https://www.belgiumdressageevents.be/wp-content/uploads/2023/05/AM20192-copy.jpg
1365
2048
Belgium Dressage Events
https://www.belgiumdressageevents.be/wp-content/uploads/2020/02/Logo-CDI-Lier-Menu-1.png
Belgium Dressage Events
2023-05-25 21:25:53
2023-05-25 21:27:05
Second victory for Domien Michiels in Briljant Cup