Special Belgian Championship for Laura Luyten
Yesterday they became second during the first part of the U25 Belgian Championship, today they won their class! Laura Luyten and J2l Lamborghini scored 70.436% in the Grand Prix test, staying ahead of the competition.
"It went really well in the ring today so I'm very happy. I enjoyed my test as I'd hoped and I don't think it could have gone much better. We bred Lamborghini ourselves and I have been riding him since he was 3 years old, he is a super nice horse, especially because he likes to compete and always wants to work really hard for you."
All three BC trumps out of the same mother
Not only Lamborghini comes from the breeding program of her parents, but also the other two horses she competes during this BC. These horses are Lotus Elan J2L (by Ferdeaux) with whom she starts Level 4, and Small Tour horse J2L Impressive Star (by Charmeur). And what makes it extra special: these three horses all have the same mother! "The horses I brought to this championship all come from our San Remo mare Zafeda. She is our favorite broodmare, because she always gives nice, cooperative sport horses that are nice to ride and forward. To be able to ride here with three of her offspring is very special!"
Nice percentages for Juniors, Ponies and Children
In the Juniors, the victory in the first part of the championship went to the strong riding Clara Collard. With Espace she scored 73.424% and this combination ended the test well ahead of the competition. Second place was Anna Peeters with Harlekin (72.515%) and third prize was for Xyliana De Rover with Hamlet (69.455%).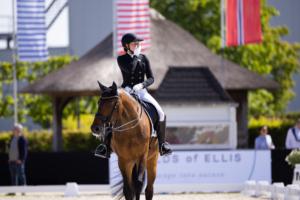 In the Individual Pony Test it was again Liezel Everars who took the win. With her Fs Capelli De Niro she scored 75.297% and she again managed to stay well ahead of the number two, Anna Peeters with Balotelli (72.000%). Sophia Leo and Biebosschen Dolino EC won the third prize with 70.919%.
Evelyne Dieltjens also had a good score with her Bonaire van de Mottelhoeve. In the Children section this beautiful combination achieved 75.600%. Just like yesterday, the second prize was for Leontine Lemmens and Erpedo Vd Performing Stables with 65.975%.
Jette de Jong class of her own in the Young Riders
Today the Young Riders started their championship and Jette de Jong was a class of her own. She managed to win the test with Heavenly Charming with 72.294% and she came second with her Indini with 72.147%. The top three was completed by Zoë Niessen and Felitia, who scored 70,000%.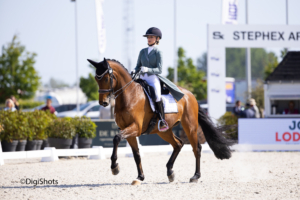 Eline Borrey De Coninck takes revenge
Yesterday they finished second, today Eline Borrey De Coninck and Haressel were placed first. With 72.118% they were the convincing winners of the Inter I class, the second part of the Belgian Championship for the Small Tour. Laura Luyten took her place on the second step of the podium, her test with J2L Impressive Star was rewarded with 70.294%. The third prize today went to yesterday's winners, Sophie van Lent-Baetens and Nea's Jacky O with 70.118%.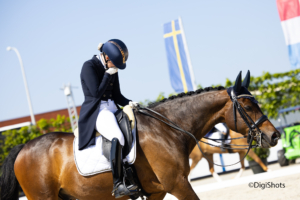 High scores for the young horses
After they were allowed to make a practice round in the track yesterday under the guidance of Gert Jan van Olst, today the Young Horses tests were ridden as a competition. Obligado (by Incognito) and Katrien Verreet came out on top with 79 points in the 4-year-old class, followed by Gatineau (by Guardian S) and Laura Smet with 76 points. The 5-year-olds scored well: with 83.6 points, Sacramento vd Bloemenhof (by Secret) and Suraya Hendrikx took the lead, followed by Netallic Coolhorses (by Franklin) and Isabel Cool with 82.6 points.
The 6-year-old class was won by Reliv Van 't Amarylishof (by Ferdeaux) and Lore Vandenborne with no less than 86 points, followed by Rianta Van de Kempenhoeve (by Indian Rock) and Amber Heidbuchel with 80 points. Quinten Begijnhoeve (by Heros Begijnhoeve) and Tommie van Puijenbroek-Visser scored particularly well in the 7-year-olds, with 74.436%. Second place was Liviah Diar (by Johnson) with Katrien Verreet with 71.275%.
You are invited
We still have a few very nice days full of beautiful dressage sport ahead of us and the weather forecast also looks good. As a spectator you are very welcome in Lier. From up to and including Sunday 29 May, the entrance fee is 10 euros per person. Via the website and the social media channels of Belgium Dressage Events, you find the timetable, starting lists, results, list of participants, the livestream and off course the latest news.
For the riders
Our photographer Leanjo de Koster of Digishots is here to capture all the thrills and spills. You can check out and order the pictures via www.digishots.nl.
Startlists/results
Pictures
Livestream
Photo: Digishots
https://www.belgiumdressageevents.be/wp-content/uploads/2023/05/Laura-Luyten.jpg
1365
2048
Belgium Dressage Events
https://www.belgiumdressageevents.be/wp-content/uploads/2020/02/Logo-CDI-Lier-Menu-1.png
Belgium Dressage Events
2023-05-26 21:14:51
2023-05-26 21:14:51
Special Belgian Championship for Laura Luyten