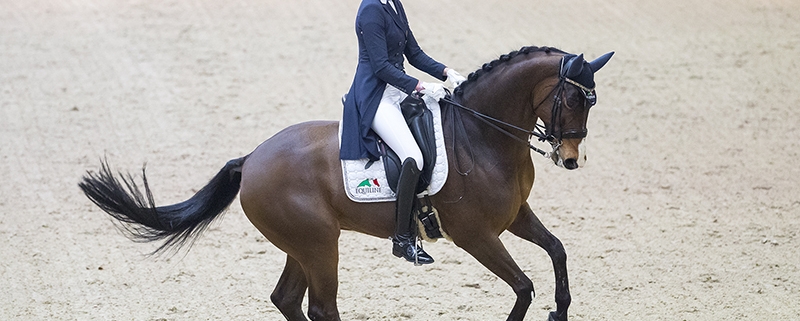 Nieuwe datum en programma Belgische Kampioenschappen Dressuur bekend 
Belgium Dressage Events has received permission from Equestrian Flanders and KBRSF to organize the Belgian Dressage Championships this year. The BK will take place from September 30 to October 4, 2020 at the Azelhof in Lier. It will be a five-day event where participants can register at different levels.
New date
It was equally uncertain when, in connection with the corona virus, the organization would get the green light to reorganize the beloved event. But now that equestrian sport is on the rise again, Belgium Dressage Events has announced that it will organize the Belgian Dressage Championships in collaboration with Equestrian Flanders and the KBRSF later in the season on 30 September to 4 October 2020.
Corona measures
The five-day event will be organized for the first time this year at the Azelhof in Lier. Because the BK is later in the season due to the relocation, the organization has opted for the tests to be held indoors. During the five-day event, all necessary measures regarding the corona virus are taken into account. For example, the event is not open to the public. Three access bands are provided per participant. These are intended for the rider, groom and trainer. For other supervisors, there is the possibility to purchase a table on the first floor at the restaurant. The tables are only available for 6 people. It is therefore not possible to book per person.
The costs for these tables include a bottle of water and Cava per day, excluding catering.
Whole week: Wednesday to Sunday € 1,000
Per day: Wednesday, Thursday, Friday or Saturday € 300 per day
Sunday: € 500 per day
When our application program is approved, registration will be possible via Equestrian Flanders. For the latest information, keep an eye on the Belgium Dressage Events website and socials. We are looking forward to a great edition.
View the BC program.
Follow the Facebook of BDE.
Follow BDE's Instagram.
Check out the BDE website.
https://www.belgiumdressageevents.be/wp-content/uploads/2019/03/Jorinde-Verwimp-Kastar-hof-ter-Zeedycke-D12-ERME19L28108.jpg
533
800
Equine MERC
https://www.belgiumdressageevents.be/wp-content/uploads/2020/02/Logo-CDI-Lier-Menu-1.png
Equine MERC
2020-09-07 13:07:27
2020-09-07 14:27:46
Nieuwe datum en programma Belgische Kampioenschappen Dressuur bekend