Jette de Jong unbeatable in Young Riders Class
Jette de Jong performed extremely well for the second day in a row, she won the first and second prize in the Young Riders class. In the individual test she won the first prize with Heavenly Charming (by Charmeur) with 73.853% and with Indini (v. Chippendale) she became second with 72.500%.
"Of course, it would be almost crazy if I said something else, but so far I'm really happy with how this championship is going. You hope in advance that it goes as well as possible and the horses were both in good shape, but you don't expect to finish in 1st and 2nd place for two days in a row, that is very special."
Own breeding products
Tomorrow Jette will ride the final with both horses and with one of the two she will of course compete for the Belgian Championship Young Riders. "Heavenly and Indini were both bred by my parents so I've known them since they were born, which means I know them inside out. Heavenly was trained by my mother, she competed him in the Small Tour when he was 7. With Indini I did most of the training myself, he is also a bit younger and still needs some time to develop. With Indini I therefore want to start Young Riders for the time being and with Heavenly I hope to be able to ride U25 by next year." The top 3 of the Young Riders was completed by Louise Brauwers and Jerveaux de Banain, they scored 70.294%.
Liezel Everars unbeatable in the pony class
Liezel Everars scored a nice hat-trick, by winning all three tests of the pony class. In the final freestyle to music she scored no less than 78.875% with her beautiful appearance Fs Capelli De Niro and this was more than enough to be honoured as Belgian Champion. With a score of 76.125%, Anne Peeters took the second place again with Balotelli 2 and she received the silver medal for the Belgian Championship. The bronze medal in the championship went to Sophia Leo and Biebosschen Dolino EC.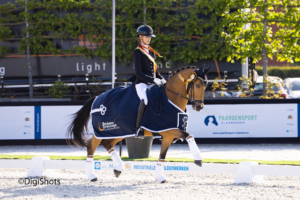 Hat trick for Evelyne Dieltjens
Evelyne Dieltjens also managed to score a hat-trick during this week and she was honoured as Belgian Champion Children with her Bonaire van de Mottelhoeve. Evelyne: "I was a bit nervous to ride here because it is my first Belgian Championship, but it went very well and I am very happy with the tests I was able to ride. I also find it very special that Bonaire used to be my mom's horse and that he is now back with us. He was sold to Italy, but he came back six months ago and then I started riding him." Leontine Lemmens and her BWP gelding Erpedo Vd Performing Stables won the silver medal.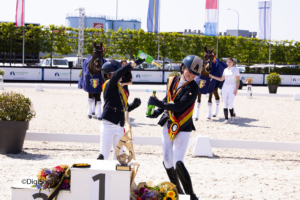 Juniors
In the Individual Test of the Juniors, the top three was exactly the same as the first day. Clara Collard won the class with Escape with 74.206% and is therefore in a good position for tomorrow's final. Anna Peeters and Harlink took the second place with 73.059% and Xyliana de Rover and Hamlet finished in the third place with 70.765%.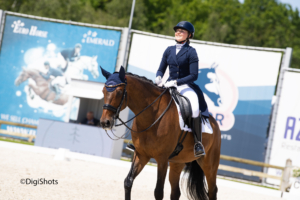 You are invited
We still have a nice day full of beautiful dressage sport ahead of us and the weather forecast also looks good. As a spectator you are very welcome in Lier. From up to and including Sunday 29 May, the entrance fee is 10 euros per person. Via the website and the social media channels of Belgium Dressage Events, you find the timetable, starting lists, results, list of participants, the livestream and off course the latest news.
For the riders
Our photographer Leanjo de Koster of Digishots is here to capture all the thrills and spills. You can check out and order the pictures via www.digishots.nl.
Startlists/results
Pictures
Livestream
Photo: Digishots
https://www.belgiumdressageevents.be/wp-content/uploads/2023/05/DSC9916-copy.jpg
1365
2048
Belgium Dressage Events
https://www.belgiumdressageevents.be/wp-content/uploads/2020/02/Logo-CDI-Lier-Menu-1.png
Belgium Dressage Events
2023-05-27 18:07:27
2023-05-27 18:07:27
Jette de Jong unbeatable in Young Riders Class