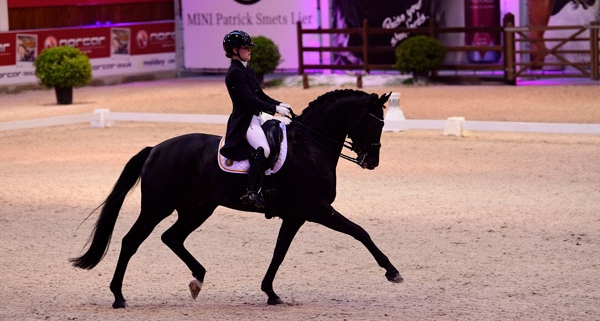 Vandeborne wins Intermédiaire II at BC U25
The last rubric of the day has just been ridden in Lier: the BC Intermédiaire II of the U25 riders. The first place went to Lore Vandeborne. She rode Ikke-pia vd Bergerhoeve (by San Amour) to a total of 67.559 percent. With this score she's ahead of Nico Nyssen, who finished second with Da Vinci (by Vivaldo with a total of 67.029 percent.
Several other rubrics were ridden in the B arena today. Tour A was presented with its Prix St. Georges today. The first place went to Naomi Nouwen with a total of 70.324 percent. She counted on the KWPN-gelding Frevo (by Zizi Top). She was the only one who could cross 70%.
Jorinde Verwimp took second place with Charmer (by Charmeur). They received a total of 69.412 percent. Numa Verberne and Silent Gatano (by Lord Leatherdale) came third with a total score of 68.882 percent. Isabelle Boost (Eternidade) and Tom Franckx (Petit Peau vh Bloemenhof) completed the top five.
Tour C rode the Intermédiaire II today and Sam Verheyden took first place. He counted on Kryptonite from Perfoming Stables (by Detroit) and was rewarded with 69,000 percent. Anne Ponsaerts and Carrera (v. United) took second place. Their trial was rewarded with a total of 68.029 percent by the jury.
Kara Bosman and Fiderprincess (by Fidertanz) completed the top three. Wouter D'Hoore (Ginassy) and Isabel Cool (Cheatodon) finished fourth and fifth place.
Suraya Hendrikx rode to victory in Tour B. With the 7-year-old Benicia (v. Benicio) under the saddle, she left her competitors far behind with a total of 71.970 percent. Jorinde Verwimp and Ampere's Diamond vh Klaverhof (by Ampere) finished in second place. They rode a total of 69.212 percent.
Brecht D'Hoore and Iverness WH (by Everdale) completed the top three with a total score of 69,000 percent. Cyriel De Coker (Jillz Urona) and Eefje Appelmans (Dynamic) followed in fourth and fifth place.
https://www.belgiumdressageevents.be/wp-content/uploads/2020/10/vandeborne-BK-dressuur-intermediaire-U25-web.jpg
400
600
Equine MERC
https://www.belgiumdressageevents.be/wp-content/uploads/2020/02/Logo-CDI-Lier-Menu-1.png
Equine MERC
2020-10-01 19:00:43
2020-10-02 09:38:40
Vandeborne wins Intermédiaire II at BC U25